Linguica and Banana Peppers
My wife was born and raised in Providence, Rhode Island. Which adds a lot of very fortunate elements into her cooking experience. The home cooking in Rhode Island is influenced by 3 European countries. Let's just say they could have filmed the Sopranos in any restaurant on the Federal Hill.
In a Hurry?
Slice and dice stuff
Sautee onions, add sausage, then peppers
Add garlic and other spices
Cook for 20 min
Done
I learned how to cook corned beef and cabbage under her direction. But most interesting to me is the influence coming from neighboring New Bedford, MA, which has a large Portuguese community. Portuguese sausages in the form of Linguica and Chourico are good substitutes for somebody who grew up with Bratwurst, Polish and Vienna sausages. And it has to be Gaspar's Sausage

That gives me obviously something to work with. That and the fact that my sister-in-law sent us Gaspar's Sausage Gift Packs as a present "for emergencies". One of those emergencies emerged this weekend, with lots of fresh banana pepper from the CSA in the fridge. I didn't feel like cooking pork chops, the only fresh meet in the fridge at that point, but was staring at the Linguica in the freezer. Here comes dinner!

Linguica and Banana Peppers
Prep time:
Cook time:
Total time:
ingredients found in the fridge
Ingredients
1 Linguica
1 pound banana peppers
1 medium sized onion
3 gloves of garlic
pepper
salt
olive oil
Instructions
Dice or slice the onion.
Slice the banana peppers into strips of 1x1/4".
Slice the Linguica.
Saute the onions in oil.
Add the sausage and let them heat through.
Add the peppers.
Add garlic whichever way you like, minced or sliced
Pepper and salt to taste
Cook until peppers are soft and most of the water has evaporated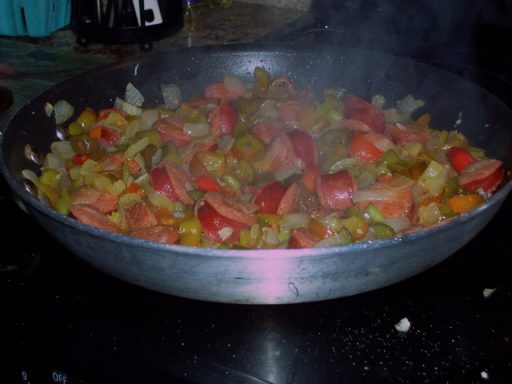 The entire composition had a sweet flavor, mostly coming from the banana peppers. They and the onions even more had soaked up some of the Linguica juices, which added an interesting flavor. I will certainly cook this again, even if I have to buy the peppers separately.